For the first time since 2015 logistics service providers are on top regarding newly developed property. More than 924,000 sqm of newly developed logistics property, this is the main result of the Logistics Property Seismograph Q-2 2017. This quarterly market report is jointly published by the consulting company Logivest in cooperation with the Fraunhofer Center for Applied Research on Supply Chain Services (SCS). This excellent achievement together with to the 976,000 sqm of the first quarter make for approximately 1.9 million sqm for the first half of 2017. This amount is equivalent to 54% of the whole new developments volume in 2016. Also the user market structure is dynamic: Trading companies have been replaced by logistics service providers on the top position.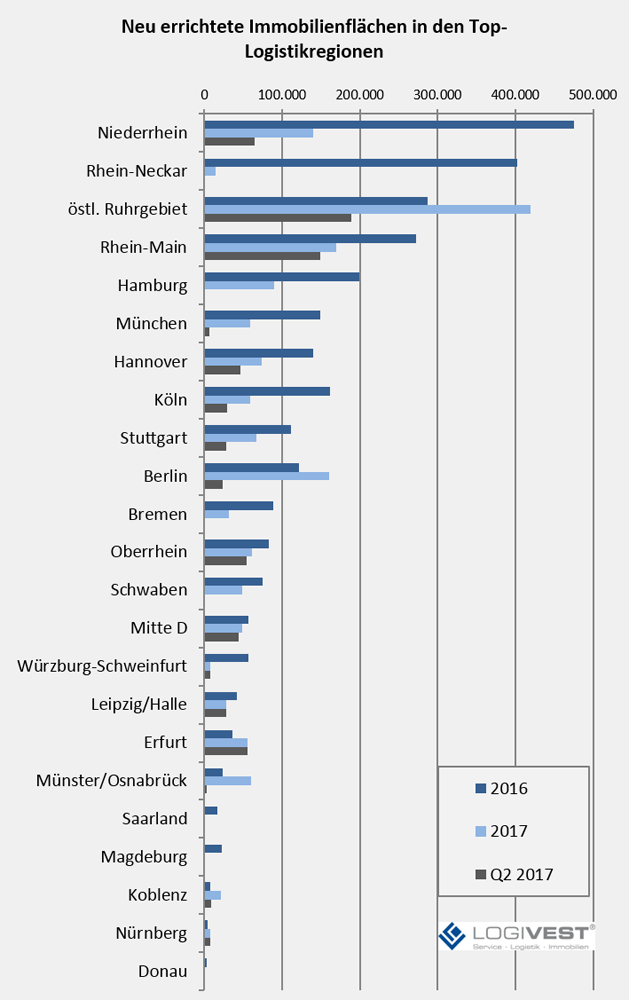 Logistics service providers currently have an above-average share of 48% of all newly developed logistics property. In the previous year, they represented merely one third. This shift is borne by industrial locations which in the first halt of 2017 only represented 20% instead of last year's 30%. The booming commerce sector with 32% shows only slight structural changes compared to 36% in the first half of 2016. "The logistics service providers haven't been able to head the table with such a clear margin since 2014, and with the upcoming Christmas trade in the second half of 2017 we are excited to see whether the logistics service providers will be able to continue their comeback or if the commerce sector will again gain the largest share as users of logistics property", says Kuno Neumeier, CEO of Logivest.
Pharmaceutical industry: Extension above new development
Especially the pharmaceutical industry shows a great growth potential regarding the use of logistics property, due to demographic change and a general tendency towards health consciousness. The new developments trend of this sector, however, is relatively moderate. In 2016, the pharmaceutical industry with ist 30,000 sqm of new developments significantly lagged behind the average growth of 70,000 sqm since 2011. "The potential of the pharmaceutical sector not directly showing in a positive new developments trend is due to the mostly specific requirements these users have, as they lead to higher costs by implication. In addition these objects are often subject to the specifications for the storage of substances hazardous to water, making them only suitable to a limited extend for alternative usage and therefore less relevant to investors. Consequently, instead of investing into new developments they primarily invest into existing objects and an increase in efficiency by means of automatization", Neumeier continues.