The international logistics service provider BLG LOGISTICS has extended its rental agreement on the site of the former Neckermann headquarters in Germany, the OSWE site in Frankfurt-Fechenheim. The approximately 64,000 sqm large logistics centre handles logistics services for various customers from fashion, workwear and occupational safety sectors.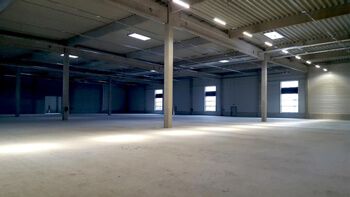 The area is characterised by its convenient location in the centre of Germany and its excellent connections to motorways, railways and the international airport Frankfurt offer ideal conditions as a trading location. This location, which is predestined for trade and logistics, is ideally suited to offer labor-intensive logistics services," explains Kuno Neumeier, Managing Director of Logivest GmbH.
BLG LOGISTICS is the first company in Europe to use one of the most modern warehouse and order picking systems currently available in the listed buildings of the site. The so-called "G-Com" is a highly dynamic and scalable order picking system that has revolutionized intralogistics at the Frankfurt logistics center. From now on, employees in the picking area no longer have to go to the goods for returned goods, but the goods come to them. engelbert strauss and BLG LOGISTICS have won the German Logistics Award 2015 and the European Logistics Award 2016 for implementing this concept.
The G-Com is based on the basic idea of a mobile order picking warehouse: The shelving units are transported fully automatically to a pick-up station. The 75 low-height transport vehicles ("carrys") used for this purpose, which have a low construction height, drive underneath the mobile product carriers, lift them up and transport them to the pick-up place on a fixed path.