Pilkington Automotive Germany GmbH, part of the NSG Group, one of the world's leading manufacturers of glass and glass products, is relocating its AGR central warehouse from Bochum to Gelsenkirchen. The company is one of the world's leading manufacturers of glass and glass products for the automotive OE (first supplier) and AGR (vehicle glass spare parts) sectors. A new, ultra-modern logistics facility is to be built on a property with around 80,000 square metres in Uechtingstraße/Werkstraße by the beginning of 2019, which Pilkington will use as an exclusive tenant. Logivest, a consulting firm specializing in logistics real estate, has advised Pilkington Automotive Deutschland GmbH on an exclusive contract for a comprehensive location research, choice of the new location and new construction planning.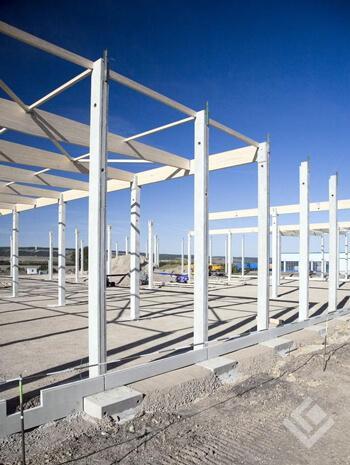 Future-proof with new state-of-the-art central warehouse
Developer and investor of this construction project is Logicor, one of the largest European logistics specialists. Construction is scheduled to start at the beginning of 2018. Pilkington has signed a long-term lease agreement as the exclusive tenant and will move into the new central warehouse with around 120 employees at the beginning of 2019.
The AGR division of the NSG Group supplies the automotive glass spare parts market with windows for cars, trucks and busses. The central European warehouse for automotive glass spare parts is currently located in Bochum. The reason for the planned relocation is the expiring lease agreement at the current location. In addition, the growing market and increased service requirements in recent years have led to a gradual growth of the location and a correspondingly higher demand for storage space. The new property, which will comprise around 32,400 square meters of storage space as well as 2,400 square meters of office space and an additional 1,700 square meters for a mezzanine floor, will enable optimized storage, handling and delivery of vehicle windows and is ideally suited to the company's requirements profile. We are pleased to have found in Logicor a qualified partner for the construction of our new distribution centre. "Supported by Logivest, we have found the perfect location and developer," explains Jens Lindenau, Supply Chain Director AGR Europe at Pilkington Automotive.
"The decisive criteria for the location in Gelsenkirchen were the short distance to the current location in Bochum, the direct view of the motorway, sufficient flexibility with the storage capacities and, of course, the excellent cooperation with the city of Gelsenkirchen", explains Thomas Schmidt, Managing Director of Logivest NRW GmbH.