New construction activity on the German logistics real estate market remains consistently high in the second quarter of 2018 - at around 200,000 square meters, the Eastern Ruhr region is the biggest winner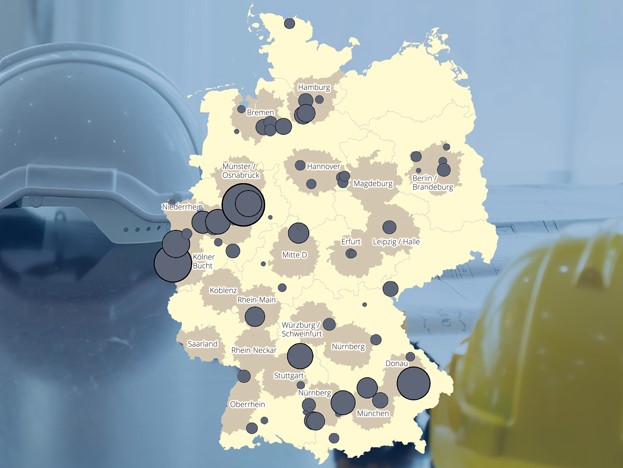 The second quarter of 2018 reached a new record level with new construction activity of around 1.05 million square metres. Compared with 924,000 square metres in the same period last year, there are signs of an upturn for the current year. The year-on-year comparison also shows this: with around 1.07 million square metres for the first quarter of 2018, a total volume of around 2.1 million square metres results for the first half of the year. This corresponds to 55 percent of the total value of 3.8 million square meters in the previous year 2017. The most dynamic new construction development in the second quarter was recorded in the top region of the Eastern Ruhr region.
New construction activities on the German logistics real estate market have increased further compared to the same period last year and almost 82 percent of them are located in Germany's top logistics regions. The biggest winner in the second quarter is the Östliche-Ruhr region: of the 200,000 square metres of new building space constructed there, almost 130,000 square metres are attributable to the construction of a logistics centre for an international online retailer. The top regions of Swabia, Bremen and the Danube region, which have already exceeded their previous year's figures, are also particularly successful. The Danube region in particular reached a total of around 101,000 square metres in the first half of 2018 through the development of a new construction area of around 78,000 square metres for a well-known automobile manufacturer. By comparison, the total new construction area of the region in the previous year was almost 20,000 square metres in 2017. At the lower end of the scale is the Koblenz region, which has not yet started construction in the current year.
"Current new construction activity is at a constantly very high level. For the year as a whole, there is therefore the potential to exceed the previous year's total volume with already announced major new construction projects for the coming quarters," reports Kuno Neumeier, Managing Director of Logivest GmbH.
Trade drives new construction development
With regard to the individual user industries, the retail sector accounted for a particularly high share of around 40 percent in the first half of 2018. In the previous year, this share was 33 percent. This shift is to the detriment of logistics service providers, who currently occupy 31 percent of new building space - in 2017 this user group led the ranking with 41 percent. The industrial sector also recorded a positive development: after a share of 26 percent in the previous year, the figure climbed to 29 percent in the first half of 2018.