YOUNGWINGS STERNENHAUS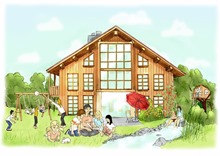 The YoungWings Sternenhaus, operated by the Nicolaidis YoungWings Foundation, is particularly dear to Karin and Kuno Neumeier, which is the reason for why they have made it a permanent feature on this website and why they support it year-round. The foundation was created to provide help to young widows and widowers and their children. In Germany, there are some 500,000 young widows and widowers and about 800,000 children plus approximately 80,000 people who have lost their entire family.
YoungWings offers bereaved parents and children help at many different levels, from support groups, grief counseling and financial and legal advice to specific projects for children such as the YoungWings online helpdesk.
Founder Martina Münch-Nicolaidis started the initiative after her own husband had died in an accident, leaving her behind with a six-week old daughter. To outsiders the impact of such a life-changing experience on young widows and widowers and their children is often difficult to grasp. Apart from being faced with the reorganization of one's daily routine and financial tasks that need to be taken care of, in many cases also financial hardships and even the fear of losing one's livelihood, it is the mourning for a beloved person that is quite challenging.
We have known Martina for many years and are deeply impressed by what she has been able to accomplish through her foundation. Supporters include soccer world champion Thomas Müller, who as ambassador is very committed to actively support affected children. It is Martina's vision to build a YoungWings Sternenhaus in Munich as center for bereaved children and young adults; a very special, beautiful haven where these young people get the opportunity to deal with their experience of loss and meet in a safe and positive environment.
We want to help make this dream come true by making a donation this year directly towards the YoungWings Sternenhaus project.
Visit youngwings-sternehaus.de to find out more.