UBS Real Estate leased approx. 3,000 square metres of logistics space and around 250 square metres of office space to BLG Industrielogistik GmbH & Co. KG. The property, which is part of the ERGO Trust Logistics Fund No. 1, is located in the industrial park "Am Birkengrund" in Ludwigsfelde. "Brandenburg Park", just a stone's throw to the west of it, where a wholesaler has leased a 5,000 square metre new building area from the VGP Group, a developer of logistics and industrial real estate. Logivest was involved in the letting of both logistics areas in an advisory capacity.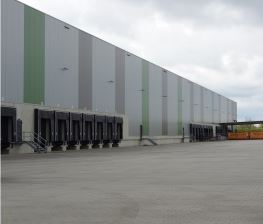 The established logistics location Ludwigsfelde is located eleven kilometres south of Berlin's city borders and around eight kilometres east of Potsdam, making it ideally located for logistics. The direct connection to the southern Berlin ring road enables fast delivery to the metropolitan area of Berlin, which is one of Germany's largest sales markets with about 4.5 million inhabitants.
Logistics feels at home at the gates of Berlin
New logistics facilities for the top logistics region Berlin/Brandenburg are being built in Brandenburg's suburbs rather than in the city area of Berlin. Essentially, all locations along the A10 motorway ring road are interesting. Especially Wustermark and Falkensee in the east as well as Großbeeren and Ludwigsfelde in the south have developed particularly strong.
Comparatively high area potential
Like hardly any other of the top locations, Berlin is still comparatively rich in available space and land potential. However, the consistently high demand for rental properties in recent years, combined with a strong investor market, has led to a noticeable increase in new construction projects in the region. The figures from the logistics real estate seismograph, which records new construction activity in the 23 top logistics regions, also show this: In 2017, with almost 200,000 square metres of new logistics space, considerably more than in 2016 with approx. 142,000 square metres have already been realized.